Here is some information about our beloved city
We also have nice things besides the fog ;)
Travel guide
We created a portable guide (well, it's a simple PDF) with basic info for your journey in Ferrara, get it here.
---
The city
Lying in the middle of the Po Valley, Ferrara still has the atmosphere of the past, which blends in harmoniously with the lively atmosphere of the present.
From 1995 on, UNESCO has included the historical centre of Ferrara in the World Cultural Heritage list.
[from VisitFerrara]
In Ferrara you can't miss the Este Castle, a bike or walk tour along the castle walls, a traditional dinner and a toast in the oldest tavern in the world. See 6 more reasons to visit Ferrara.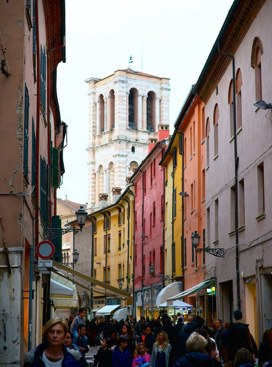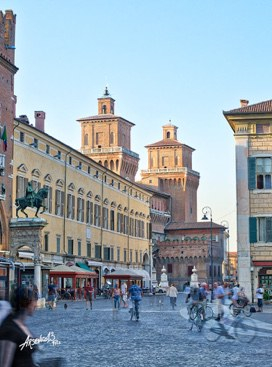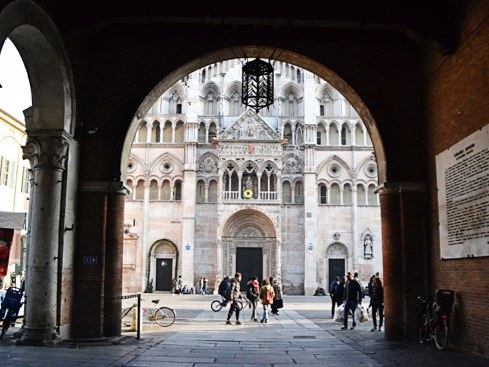 ---
Accommodation/hotels
We worked hard to find all venues (trainings, conference and sprint) in the city center, so you can enjoy the spirit of the town.
We recommend to find a hotel or airbnb there or in the neighborhood. Visit the venue page to get more details on conference venues location.
If you'll book an accommodation in the city center, you can also reach most important touristic locations within walking/bicycle distance.
Feel free to book your room using the usual booking engines or using the local incoming agency VisitFerrara: a 15% discount will be applied to the conference's participants (you will receive the discount code after ticket purchase).
---

---
Food
We are in Italy, here everybody loves food so we want to give you all the information to taste our traditional meals and enjoy your stay.
We would offer you the best food experience. We created a special page for this purpose: some advice about where and what to eat in town.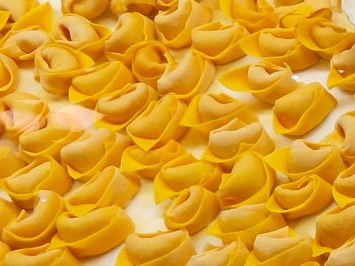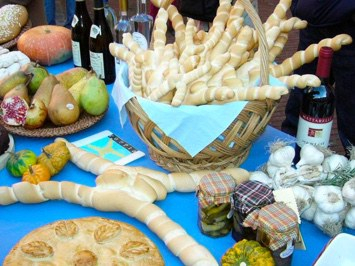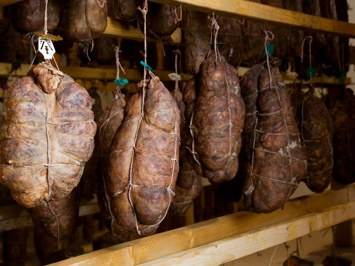 ---
How to get there
Ferrara is not too far from major cities like Bologna, Florence, Milan or Venice.
If you arrive by plane, the best choice is Bologna. There is a direct shuttle that connects Bologna International Airport with Ferrara for 30€ (roundtrip fare).
Alternatively you could also reach Bologna central station and get a local train to Ferrara (there is one train each hour for about 3€) taking 40 minutes (express line, less stops) or 1 hour (local line, all stops).

If you land in Venice, there is a local train that brings you to Ferrara in about 1 hour.
If you land in Milan, Venice or Florence, you can reach Ferrara with two high speed train lines (Trenitalia Frecce or Italo). Usually there are more departures for Bologna than for Ferrara, but as we previously said, from Bologna you can easily reach Ferrara.
If you are a reasonable distance from Ferrara, you could also come by car: it's a small town with several parking lots around the city center and no traffic.

You can find more information on the Visit Ferrara website.
---
   
How to move in Ferrara
People in Ferrara move by foot or by bicycle (you may want to rent one), but you can also grab one of the public buses that connect different zones of the city to the center.
All the information, maps and timetables are available at the Main Tourist Information Office. You'll find nice people there, and you can contact them in advance.
---

---
Things to do / Things to see
If you are interested in art and culture, there are several museums to visit. There are also interesting historical renaissance palaces (the castle for example). If you want to relax, you could take a contemplative walk (or run) over the city walls. If you like wild nature and want to take a car, Po delta park is a must see.
More details and upcoming events are listed in Ferrara terra e acqua website.
If you are planning to stay here with your family or spend some extra days in Italy, from Ferrara you can easily reach most important cities.
There are direct trains to Venice and Bologna. From Bologna you can easily (and quickly) reach bigger towns like Florence, Milan, Rome, Naples.